Gracias, merci, danke, obrigado, рақмет сізге, tak, धन्यवाद, cảm ơn bạn, شكرا, mulțumesc, asante, ευχαριστώ, thank you Docker community!
While we originally planned for 40 Docker Birthday #3 celebrations worldwide with 1,000 attendees, over 8,000 people registered to attend one of the 125 celebrations across 5 continents! A huge thank you to all the Docker meetup organizers who worked hard to make these celebrations happen and offer Docker beginners an opportunity to participate in hands on Docker tutorials. In case you missed it last week, check out the pics from all of the #dockerbday celebrations including the awesome birthday cakes!
None of this would have been possible without the support (and expertise!) of the 600+ Docker users who signed up as mentors to help newcomers learn the Docker basics as they build, ship and run their first distributed applications with the Docker Toolbox.
Last but not least, a big shout out to all of the Docker Birthday #3 global partners who contributed to the success of these events and ensured that they were inclusive for everyone attending.
Learn Docker
In case you missed the celebrations, all of the training materials are available here: github.com/docker/docker-birthday-3
Make sure to complete these steps to get your work environment ready:
For Linux users, you need to install Docker engine.
For PC and Mac users, you need to install Docker Toolbox for Mac and Windows and use Docker Machine to create a virtual machine to run your Docker containers. Once your machine is created and you have connected your shell to this new machine, you're ready to run Docker commands on this host.
Watch these videos for step-by-step instructions on how to set up Docker on your machine.
If you're new to Docker, pre-pull the docker images for the very basic tutorial

docker pull hello-world
docker pull alpine
docker pull seqvence/static-site

To run the application and participate in the rest of the training, pre-pull these images

docker pull mhart/alpine-node
docker pull python:2.7-alpine
docker pull java:openjdk-8-jdk-alpine
docker pull redis:alpine
docker pull postgres:9.4

And now you're ready to start the Docker for Beginners tutorial!
Docker Birthday Training
Participants in the training will go through the steps involved in running and developing a simple voting app from a fresh computer using the Docker Toolbox which includes the following: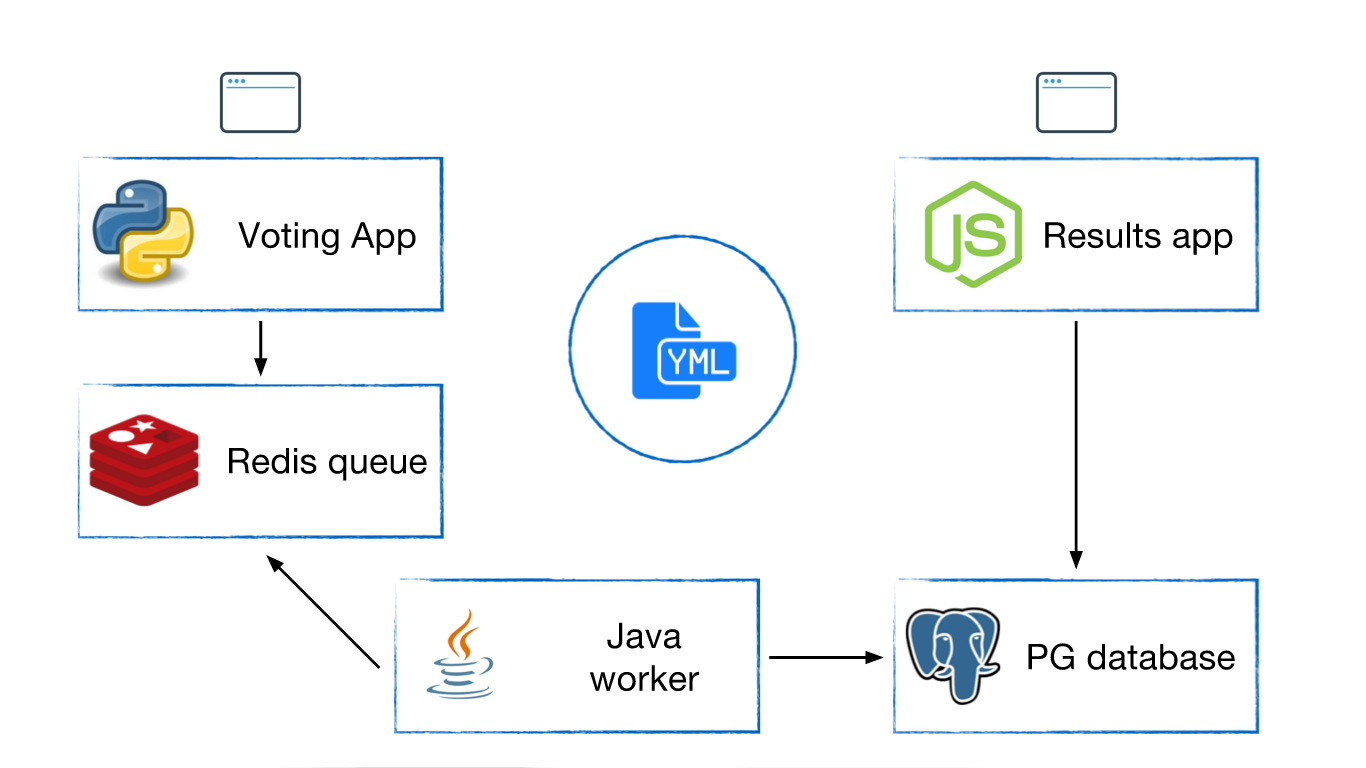 There is a
self-paced beginners' tutorial
for attendees to learn Docker basics as they build and deploy this app locally. At the end of the tutorial, every participants who successfully built their app will receive a submission ID. At this point, go to
dockerize.it
and enter that ID in the submission box above the following map. It will take a few minutes for the submission status to go from "pending' to "accepted" and for your pin to appear on the map!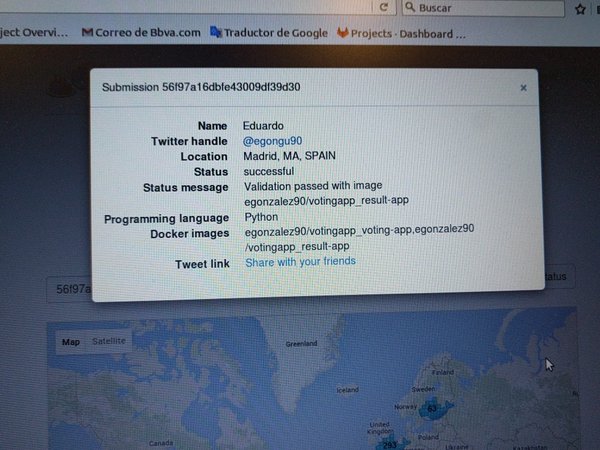 Docker Birthday Challenge
Once you finish the tutorial, we encourage you to continue hacking on the app! We're running a challenge for the best hack to improve this app by Monday, April 18th at 9am PST. The best hack wins a very special Docker swag package and complimentary pass to DockerCon 2016! The two runner-ups will receive an awesome Docker hoodie and all of these hacks will be featured in a blog post on blog.docker.com.
We encourage you to build a cool hack based on what you learned. Our advice is to be creative, make sure it's useful and most importantly, have fun!
Here are some ideas the Docker team brainstormed:
For Devs:
Rewrite or add features to the following apps:

Python webapp which lets you vote between two options
Java worker which consumes votes and stores them
Node.js webapp shich shows the results of the voting in real time

Write something to generate random votes so you can load test the app
For Ops:
In order to qualify for the prizes, you must follow these steps by Monday, April 18th at 9am PST:
Submit your entry at bit.ly/1TLpxuK
Submit your PR at github.com/docker/docker-birthday-3
Birthday celebrations all around the world!
From Sydney to Sao Paulo, Kisimu to Copenhagen and Minneapolis to Manila, it was so awesome to see the energy from the community coming together to celebrate and learn about Docker!
Check out this cool video
from
Docker Madrid
's birthday celebration.
Whether it was mentors helping attendees, newcomers pushing their first image to Docker Hub or attendees mingling and having a good time, everyone collaborated to make this birthday week a success as you can see on social media. Here are some of our favorite tweets from the celebrations:
Best #dockerbday EVER at the wonderful @WAmsterdamHotel! The Dutch community is amazing, thanks to all attending!! pic.twitter.com/GwoL5h8FQZ

— Implicit-Explicit (@Im_Ex_plicit) March 25, 2016
OK, this is officially my favorite #dockerselfie from our #dockerbday in #athens #dockerath /cc @pariskasid pic.twitter.com/jlPcNkbaRc

— Antonis Kalipetis (@akalipetis) March 25, 2016
Awesome @docker Birthday party! Thank you for all participants and our sponsors @minderaswcraft @alticelabs @feedzai pic.twitter.com/V3p0NgZNpn

— Docker Porto (@DockerPorto) March 26, 2016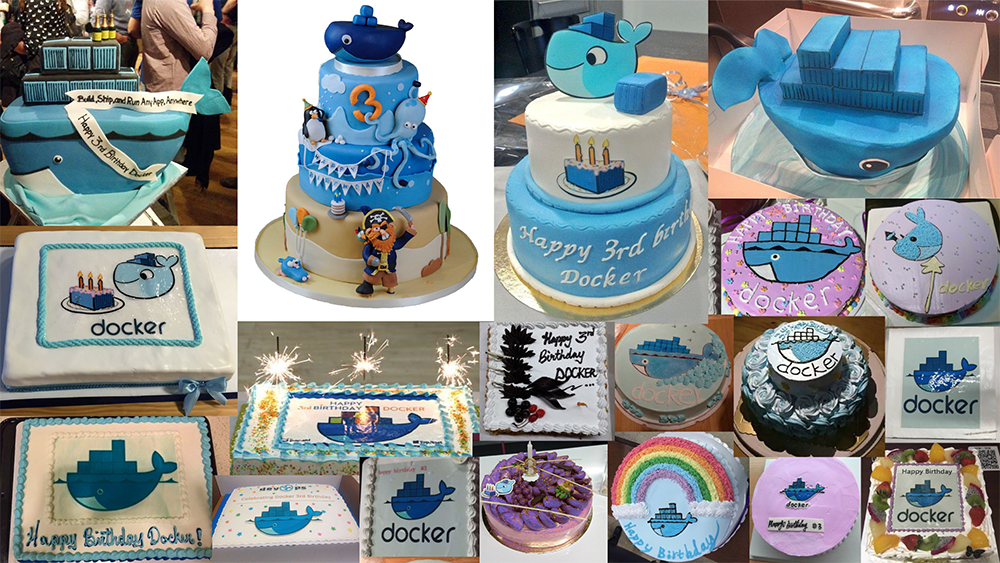 And of course, no birthday would be complete without birthday cake! It has been really fun seeing all of the amazing Docker birthday cakes from the worldwide community.
Special shout out to Docker Randstad and Docker Bamberg meetup groups! The attention to detail in these two cakes were phenomenal and really wowed everyone here at Docker HQ.

Epic #dockerbday cake from @HypriotTweets team! See it IRL at today's @docker Bamberg meetup https://t.co/FSgSnSSgwy pic.twitter.com/eZ4STouND9

— Docker (@docker) March 22, 2016
Happy birthday @docker! #dockerbday in Amsterdam pic.twitter.com/uj008gqxGC

— remmelt (@remmelt_) March 24, 2016
---
Learn More about Docker