As most of you know by now, at Docker we love to organize meetups for the Docker community. We think meetups are a great way for everyone to learn, share their knowledge and network with others like-minded people while having fun.
We are thrilled to announce that as of this weekend, there are more than 100,000 people who have joined the Docker meetup community. As we hit this milestone, we wanted to take a moment to reflect on how the community got there, why people are excited about attending these events and thank the people who made all of this possible.
The first Docker meetup group was founded San Francisco in April 2013. And only three short years later, thanks to volunteers from the community there are
245 Docker meetup groups in 72 countries across 6 continents
.
Interested in attending future Docker meetups and events?
Since April 2013, the Docker community grown on average 7 new meetup groups every month with over 90 groups in Europe alone.

In the past 3 years, the Docker community has organized more than
1500 meetups
around the world for an average of
70 meetups every month
. In March 2016, the activity level in the Docker community reached an all time high with a total of 184 meetups including 125 birthday celebrations!

More than 400 volunteers from the community work tremendously hard to manage these groups and ensure that every meetup is a success. Whether it's finding speakers, sponsors or venues, we are immensely thankful for their contributions to keep the worldwide Docker community active – none of this would have been possible without them! If you attend these Docker meetups, please give them the a much-deserved thank you for all of their hard work!
Today, we want to give a special shout-outs to the awesome community members who have been organizing Docker meetups since 2013.
Seeing everything that the meetup organizers do to make each event happen in their cities has been humbling for everyone at Docker. From the logistics of finding the right venue, coordinating speaker schedules, ordering food and beverages and even dealing with customs to collect Docker swag, being an organizer takes a lot of time and effort.
Preparing for tomorrow's docker ATL birthday event. pic.twitter.com/ukb7KgLE1w

— Aaron Feng (@aaronfeng) March 21, 2016
That's why our @docker meetup is majestic: venue right next door to the royal palace! Thanks @Praqma for sponsoring pic.twitter.com/K3dIZIcmOA

— Docker Stockholm (@DockerStockholm) April 4, 2016


In addition to the logistical aspects, organizers also have to deal with the technical challenges associated with running Docker user groups. It's truly inspiring to see all the creative ideas the organizers always come up with to overcome these challenges.
For instance, last month, Rennes organizer Nicolas de Loof wrote a script to collect all required images and offer an import script to attendees participating in his local edition of the Docker birthday.
Vincent de Smet, one of the organizers in Saigon, wrote a post on setting up a private registry with TLS enabled using Docker-Machine, explaining how to configure Boot2Docker clients to push/pull to this registry to avoid issues with slow wifi at the meetup venue.
Organizer Nils de Moor, with the help of community mentors Damien Duportal and Dieter Reuter, also came up with the idea of organizing a Docker on Raspberry Pi Workshop in Brussels for people to learn Docker Engine and Docker Swarm basics.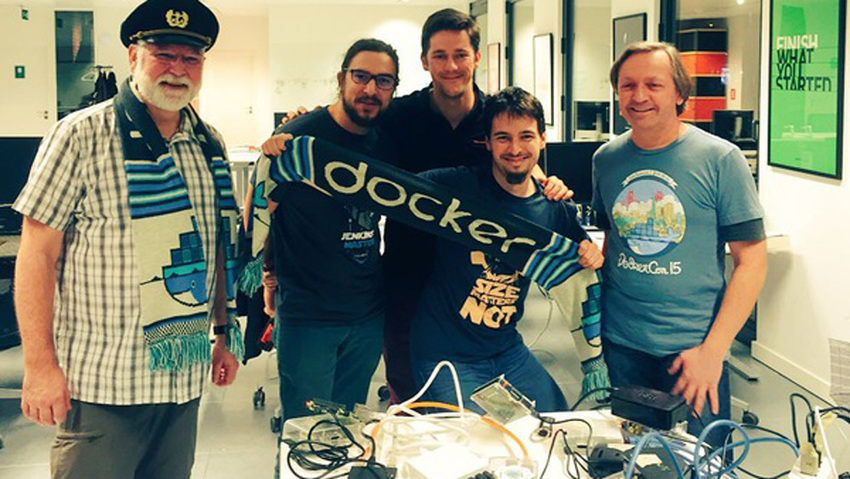 Anyone can start a Docker Meetup group as long as there is not an existing Docker user group in the same city. We simply ask our organizers to comply with our code of conduct and ensure everyone in the community feels welcome! Our community team would be happy to work with you on launching a new group or connecting you to the organizers in your city.
Want to start your own Docker meetup group? First check out this page to learn more next steps, best practices, benefits, etc. You can also check out our Docker Meetup Guide and this list of tips to organize the best tech meetups by Johann Romefort, the Docker Munich meetup organizer.
Docker, Inc could certainly not sponsor all these Docker user groups without the support of all the local sponsors. We're very grateful for all the companies in the Docker ecosystem who are providing venues, sponsoring food and beverages or paying for the video recording of the talks. We're always looking for new sponsors to make sure every group remains active and fun. If your company is interested in sponsoring Docker meetups, please send us an email to [email protected].
So you might be asking yourselves, why are so many people attending Docker meetup? What can I expect from these meetups?
The first and most obvious reason is to learn about the different components of the Docker Platform and its over 400 ecosystem partners. Docker and the ecosystem are rapidly changing and iterating with every new releases. Meetup are a great way to catch up with the latest Docker projects, features, improvements including the ones from other organizations in the ecosystem.
wooo, what a fantastic sysadmin meetup. lots of cool security talk. plus i learned true history of "Sessionable beers". thanks @docker !

— davi – 德海 (@daviottenheimer) August 1, 2015
Had a great time learning #Docker at Docker HQ yesterday! Thanks @docker for an awesome meetup! You guys rock!— Mala Nimalasuriya (@M428) March 24, 2016

Another reason why people like to attend Docker meetup is to meet other members of the community. Informal discussions before and after the main talks as well as audience Q&A will give you a chance to hear about the best and latest Docker tips, tricks, ideas, opinions and lessons learned.
@miguelcnf @razevedo in my behalf thank you for giving such an awesome out-of-the-box presentation!

— Tiago Pires (@tpires) March 26, 2016
In case that was not enough to convince you, we often give Docker swag at Docker meetups. Just ask a questions or give a (lightning) talk about your Docker use case and you might be rewarded with a standard or limited edition Docker t-shirts or stickers!

Shipping lots of @docker goodies today! Got to spread the love to our #dockermeetup pic.twitter.com/5iuz2OSuJl

— Docker (@docker) July 17, 2014
Last but not least, there is a really good chance that you will have fun! Whether it's participating in the next #dockerhackday, celebrating the next #dockerbday, attending hands-on workshop or the regular monthly meetup, all Docker organizers strive to make these events as welcoming as possible.
Best #dockerbday EVER at the wonderful @WAmsterdamHotel! The Dutch community is amazing, thanks to all attending!! pic.twitter.com/GwoL5h8FQZ— Implicit-Explicit (@Im_Ex_plicit) March 25, 2016

Interested in attending future Docker meetups and events? Check out this map to see if a Docker user group exists in your city or take a look at the list of upcoming Docker events.
Can't find a group near you? You can also join the Docker Online Meetup Group!
In case you missed the Docker Birthday celebrations last month, there is a self-paced beginners' tutorial for new members of the Docker community who want to learn the Docker basics. This tutorial will walk you through the steps involved in developing and running a simple voting app (see design below) from a fresh computer using the Docker Toolbox.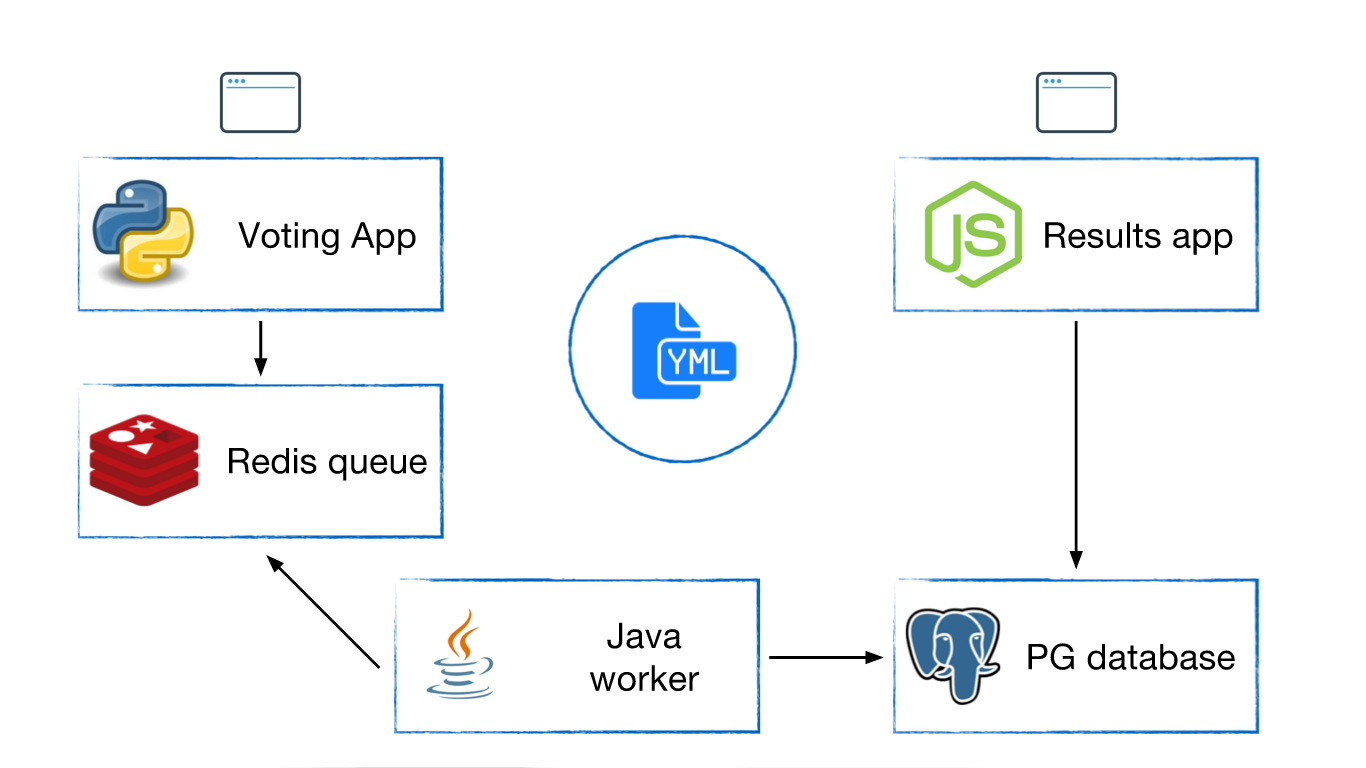 At the end of the tutorial, every participants who successfully built their app will receive a submission ID. At this point, go to
dockerize.it
and enter that ID in the submission box above the following map to confirm that the status of your submission is successful!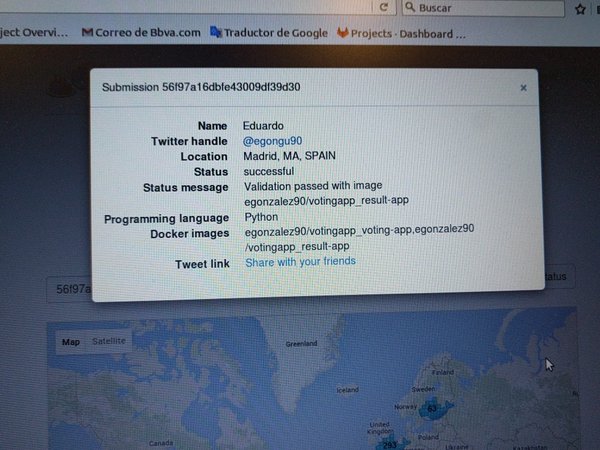 ---
Learn More about Docker